With proven, lasting performance, MOOG® heavy duty chassis parts keep over-the-road and off-road vehicles going strong mile after mile. The precision engineering and advanced technology built into MOOG products provide reliable steering and chassis solutions for Class 2c - 8 vehicles.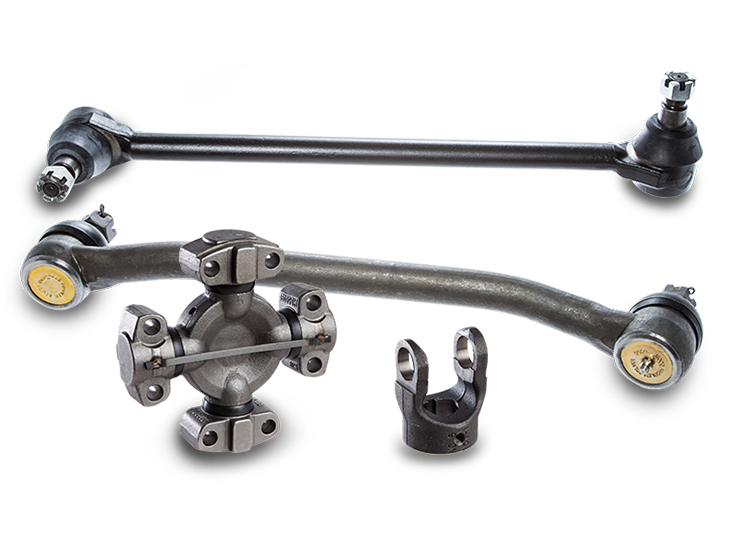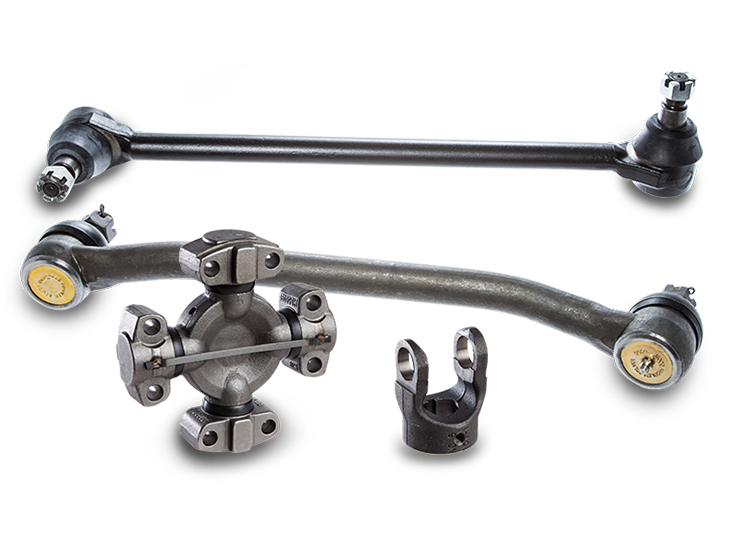 An American Success Story
2016
MOOG Continuous Product Innovation – U.S. Patents Granted
MOOG engineering team is granted two additional patents – 48 to date. MOOG constantly introduces design enhancements that extend product life or simplify installation and replacement. We earned our reputation as the chassis industry problem solver for nearly 100 years.
2015
Official Steering & Suspension of NASCAR; MOOG wins its 50th straight NASCAR Championship
As MOOG celebrates its 50th year in NASCAR, the racing organization mandates the use of MOOG ball joints and tie rod ends on every Sprint Cup race car, making MOOG the Official Steering & Suspension of NASCAR; Kyle Busch wins MOOG's 50th straight NASCAR championship.
2014
Record-breaking coverage expansion
MOOG completes a record-breaking expansion of application coverage, with 835 new part numbers – including nearly 600 additional control arms and assemblies, and 47 wheel hub assemblies.
2013
Exciting innovations
MOOG announces two new parts: A sway bar link with an easy-to-thread barrel lock nut makes a difficult task easier. A patent-pending vertical control arm bushing utilizes a ball-and-socket design to prevent failure.
2012
Championship streak extended to 47
MOOG extends its Sprint Cup winning streak to 47 as Brad Keselowski and the No. 2 Miller Lite Dodge clinch the title. The Penske Racing-owned team finishes the year with five wins, 13 Top-5 and 23 Top-10 finishes.
2011
MOOG brand franchise expansion
Jimmie Johnson makes history yet again, winning his fifth straight title, and doing it on MOOG parts. The brand introduces hundreds of new part numbers, and launches the "Totally MOOG" technician rewards program.

2010
Johnson wins 5th straight, new parts introduced
Jimmie Johnson makes history yet again, winning his fifth straight title, and doing it on MOOG parts. The brand introduces hundreds of new part numbers, and launches the "Totally MOOG" technician rewards program.
2009
Johnson's 4th championship is MOOG's 44th
Riding on MOOG parts, Jimmie Johnson wins an unprecedented fourth straight NASCAR championship. It is the 44th straight championship for a MOOG-equipped vehicle.
2004
MOOG rebounds to high fill rates following fire
A fire at the MOOG distribution center in Smithville, Tennessee, destroys the facility and the MOOG inventory it housed. But the brand steps up its production and is able to return to its standard fill rate within weeks.
2000
M2 Technology introduced
MOOG introduces "M2 Technology" chassis parts designed to improve steering response by allowing smoother operation through a component's full range of motion.
1990s
Federal-Mogul buys MOOG Automotive
Federal-Mogul Corporation purchases MOOG Automotive from Cooper Industries.
1980s
"Hub" MOOG inducted into Automotive Hall of Fame
Hubert Moog inducted into the Automotive Hall of Fame in 1988.
1960s
Training center opens
The MOOG steering and suspension training center – the first in the industry – opens to provide a high-tech facility for training salesmen and customers alike. Over 17,000 people, most of them customers, pass through.
1960s
The winning streak begins
MOOG begins its long standing NASCAR® relationship and over 50 year winning streak starting in 1966 with a Championship victory by David Pearson.
1950s
Birth of the MOOG "gusher" bearing
The MOOG "gusher" bearing is introduced, providing a new means of reducing friction in ball joints without compromising strength. Glenn "Fireball" Roberts becomes the first racer to put a MOOG decal on his car.
1940s
MOOG uses slowdown to improve quality
The company's fortunes are impacted as demand for replacement parts falls off due to more people purchasing new cars instead of repairing older ones. MOOG uses the time to focus on continued product quality improvements.
1930s
Shift to front-end parts, origin of Problem Solver
H.P. and Alva decide to manufacture front-end parts, starting with parts for the new knee-action GM suspension. Their superior parts, now branded "MOOG," lay the groundwork for MOOG's eventual "Problem Solver" status.
1920s
"Electrically heat treated spring"
St. Louis Spring buys and installs an advanced electrically fired draw furnace, which delivers a more consistently tempered spring. This begins the long Moog heritage of forward-looking technology and quality.
1919
Moogs purchase Jenkins-Vulcan
Brothers Hubert Prater (H.P.) Moog and Shulman Alva Moog find themselves without jobs when a new prohibition law forces the closing of their father's wholesale whisky business in Florida.